Sustainable Business Workshops
This four-part workshop series is for business people at any level of an organization, consultants, educators, and "knowledge workers" who wish to gain practical tools for building resilient organizations. Each half-day session delivers stand-alone skills and new awareness, while participation in the entire series builds a set of core competencies for implementing sustainable learning organizations and communities. Come to any or all of them.
| | |
| --- | --- |
| Topic | Description |
| | Aligning organizational values using a co-mentorship model. |
| | Applying principles for sustained development using The Natural Step |
| | Auditing tools for EcoManagement success |
| | A "balanced scorecard" approach integrates customer and corporate values |
Contact us to schedule this workshop series for your business or organization
1.

Fill in the automated registration form [recommended]
3.

Fax your registration information to 831-761-3810 or send by US mail.
Why This Workshop Series?
These workshops give you the tools you need to succeed in the 21st Century.
Customers are demanding new levels of responsibility from the companies with which they do business, and regulations are only becoming more stringent.
To alleviate these pressures, organizations are moving beyond costly compliance-based programs to more advanced, ecological and systems-based practices. For stability and profitability, managers recognize the need to incorporate new principles into their organizations that generate increased levels of resiliency, flexibility, and performance.
SQA offers frameworks to prepare businesses for the demands of an interdependent global system.
SQA processes and tools can reduce company dependencies on regulatory requirements, increase customer loyalty and employee morale, and raise company value and profits.
Below is a summary of each of the 4M programs; for agenda specifics, facilitator biographies, references and success stories, contact SQA via Email (preferred) at sbqa@ecoquality.com or via telephone at 831.761-0700.
1. Mentor: ALIGNING ORGANIZATIONAL VALUES
Values are what drive a company. The Values Alignment process (www.valuesalignment.com) involves consciously selecting and committing to a set of priorities at the individual, team, and organizational levels. To create an intentional business culture engaged in sustainable economics, the need and ability to change is first determined. A value matrix is used to measure individual, team, organizational, and customer levels of commitment. Then, specific activities are identified within each matrix cell that involve individual or team learning and practice. The resulting set of priorities helps to coordinate organizational behavior and accelerate group achievement. Top
2. Map: APPLYING PRINCIPLES FOR SUSTAINED DEVELOPMENT
This program features the ground-breaking work of The Natural Step (TNS, http://www.naturalstep.org/what/what_science.html), used as a design framework for businesses to become more sustainable. Based on science (the laws of thermodynamics), TNS serves as a compass for recognizing how one part of a business affects every other part, and often in unexpected ways. The TNS framework guides the actions of organizations without relying on government-imposed regulations. The TNS process uses dialogue and consensus building as key to evolving an organization's ability to learn while making significant strides toward sustainability. Top
3. Measure: AUDITING FOR ECOLOGICAL MANAGEMENT
The challenge in the 21st century is to create sustainable societies where business can satisfy current needs without diminishing the prospects for future generations. Managers today are seeking guidance in new ways of thinking that are required to meet this challenge. This auditing process (from the book EcoManagement of The Elmwood Institute) takes a major step in that direction by helping people identify what can be done to reduce the impact of their companies on the environment. It shows how to systematically set priorities and create an action plan for implementing improvements. It provides a practical guide and comprehensive checklist that aligns your business with the new era of ecological stewardship. Top
4. Monitor: EVALUATING FOR SUSTAINABLE QUALITY
Sustainable Quality (http://www.ecoquality.com/sqa/awardshome.htm) is an integrated approach to sustainable economic development, social responsibility, and environmental stewardship. It defines the ability to balance organizational short term demands to create efficient, high quality products, services, and work environments while meeting the long term needs of maintaining effective, ecological, global solutions. Modeled after international sustainability and quality-based programs, this process provides evaluation and recognition for organizations practicing excellence and innovation. It demonstrates that Sustainable Quality is not simply altruistic but is in fact critical to maintaining a competitive advantage in an emerging global economic system.
What is Balanced Scorecard?

If an organization's fiscal bottom line is like a rear view mirror, Balanced Scorecard acts as a "front view mirror" -- a navigational tool, similar to a compass that also tells you where you've been and how you got here -- making sure that the direction your heading is actually where you want to go.

Continuously monitoring, or "scorekeeping" makes the game of business more engaging and concrete to all stakeholders, giving greater visibility and meaning to those involved, and greater credibility to those who wish to persuade upper management.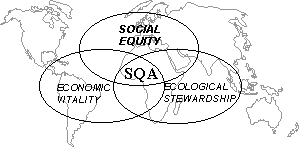 4M Workshop Series Background
The Sustainable Quality Alliance (SQA) and the area Chamber of Commerce co-sponsor a four-part workshop series, "The Four M's of Resilient Organizations," first delivered February, 2000.
Vic Desotelle, the course architect, explains why this program represents a ripe opportunity for business and community leaders: "There's treasure trapped in your organization. Treasures in the form of:
1: Increased energy & material efficiencies
2: Improved customer potential & employee loyalty
3: Greater market value and profits
These 3 areas comprise the 'triple bottom line', a framework for improving organizations in an emerging global market," explains Desotelle.
The focus of the SQA, now teamed up with the Santa Cruz area Chamber of Commerce, is to support organizational achievements relating to 21st century innovation and development. "Companies now exist within a globally interconnected system, says Desotelle. SQA is helping business be successful within the emerging global market."
SQA offers frameworks that companies can use to quantify efficiency while enhancing quality. Their goal is to create a win-win-win: the planet wins, employees and local communities win, and companies win. It all starts with accepting sustainability as a core principle of development.
Otherwise known as the "3 E's of sustainability" (Ecology, Economy, Equity), SQA's triple-bottom-line model broadens business perspectives and opportunities, helping to create more of what customers want: quality products, a healthier environment, and a vital economic community.
"By better understanding principles of sustainability", says Desotelle, "businesses can enjoy increased market resiliency. Sustainable quality involves identifying short-comings while simultaneously creating long-term viability." He says that incorporating sustainability into company planning will actually help define the pathway to success. Four M's – Mentor, Map, Measure, and Monitor – deliver the framework and tools for making sustainable quality a practical reality in your organization.

For more information about the Workshop Series, follow one of these links